The management of white-tailed deer has become increasingly important over the past few decades. Of all the management practices available for improving deer habitat, none is more popular than planting food plots. Landowners, deer managers and hunting clubs plant thousands of food plots for deer each year. In the past, most food plots were planted with small, annual grains in the late-summer or early-fall. These food plots were planted primarily to attract animals during the deer hunting season, but providing year-round supplemental food for whitetail is now a major objective of most landowners and land managers.
Today, food plots now are an integral part of many intensive deer habitat management programs. More and more deer hunters and deer managers plant food plots for reasons other than just hunting. Research has found that supplemental forages are highly beneficial to deer. Cool season (fall-winter) food plots are planted with highly nutritious crops to help deer through nutritionally stressful periods. Warm season (spring-summer) seed mixes are planted to provide high protein, high quality food during the antler growing and fawn producing periods of spring and summer. Furthermore, warm season plots also are planted to help whitetail navigate through the nutritionally stressful period from July through early September.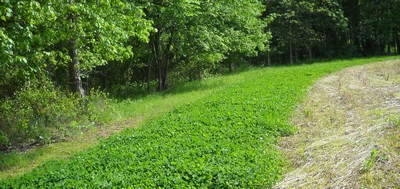 Winter and summer food plots planted for whitetail deer also benefit many other wildlife species. Not only do plots increase available forage for wildlife, but food plots increase habitat diversity in forested areas by creating openings and edge. Forest openings and edges created by food plot development allow certain plants to grow that normally cannot survive in a closed-canopy environment. These plants include high protein forbs and bread-and-butter browse species.
The objective of many whitetail deer habitat management practices is to create plant diversity. High plant diversity translates into the increased availability of plants that are nutritious to deer. Soil disturbance, fertilization, and liming associated with preparing and planting food plots for whitetail also enhance the quality and types of native plants that grow along the food plot edges. Many of the native plants that grow along the edge of food plots provide feeding, nesting, and brood-rearing habitat for wild turkeys, bobwhite quail, and many other game and non-game species of wildlife.
When it comes to food plots, planning and preparation will provide the most benefit for your invested time and money. The first thing to decide is where and how to plant a food plot. On many properties, the options are limited to current openings. Old roadways, utility rights-of -ways and sparsely wooded areas may be the only options. In cases where space is limited, it is recommended that possible plots be planted in the fall. Planting numerous small food plots will provide food for the deer, but more importantly these plots should increase deer observations and the chances of reaching established harvest goals.