Landowners and hunters alike understand the importance of managing for better white-tailed deer. Practices that enhance whitetail habitat and improve deer nutrition are the foundations of producing big bucks and healthy deer. One way to reach these objectives is the planting food plots for whitetail deer in Wisconsin. But deciding to plant food plots is one thing, actually do it and doing it correctly is another.Like everything, it's often easier said than done.
The first step is to determine the selection of plants for your food plot. This will depend upon the purpose of the food plot, soil type and the amounts and arrangement of food and cover on the property. When it comes to commercially prepared food plot seeds for sale there are many specialty mixes avilable on the market. They can be both good and bad, especially if the species in the mix are not fit for Wisconsin's climate. Many "fancy bag" mixes are also quite expensive when compared to different varieties of similar mixes available from local feed and seed stores.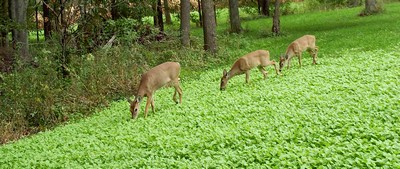 Two solid choices for providing good year-round deer nutrition are clovers and brassicas. There are many varieties of clover, but they are all perennials that will come up year after year that provide low cost, low maintenance food plots. White-tailed deer and turkey love clovers! Another good food plot choice is brassicas. Brassicas are annual plants that will require replanting on an annual basis. Much of the material found in the leaves of brassicas start as starches, but then convert to sugar after the first frost. This is good because deer will not eat them while they are growing in plots, but then when the first freeze sets in deer will hit brassicas like mad, making for a great hunting plot.
In addition to clovers and brassicas, some other options for food plots for whitetail deer in Wisconsin, Michigan an neighboring states include chicory and turnips. These can be planted as stand-alone food plots, but much more often they are added into seed mixes. Chicory should be planted in the spring. It will grow very quickly and outgrow most weeds. If deer are not hammering it, then chicory should be mowed periodically to prevent the plant from developing flower stalks taller than 6 to 10 inches in height. These stalks are low in quality and will result in an overall decrease in the
Wheat, rye, and buckwheat can also be planted to winter food plots, but they tend to bend over and rot in late winter or early spring. These species, however, do provide excellent forage for whitetail in Wisconsin up until the plants die. Whatever you decide to plant, it is essential that the species you include in a food plot match the climate, soil fertility, drainage, and pH that they need. Planting food plots for whitetail deer in Wisconsin is a great way to increase their nutritional plane throughout the year and increase harvest in the fall.