The best way to provide supplemental food for white-tailed deer found in East Texas is through food plots. One project hunters and landowners can undertake to make a property more attractive to wildlife is a warm season food plot. Spring food plots are designed to provide nutritional forage during times with high nutritional demands such as antler development for bucks and fawn rearing and lactation in does, as well as stress times such as late summer when native browse toughens up and becomes less palatable.
The reality is that supplemental feeding through food plots, when done properly, should be a year long activity—not just a place to kill whitetail during the deer hunting season. So put in a spring plot for nutrition before putting in a fall plot for hunting. When planting a food plot in East Texas, go with the tried-and-true seed mixes that consistently produce reliable plots every year. The small bag mixes that you see at the local sporting goods store can be good for small plots but are generally cost prohibitive for larger plots.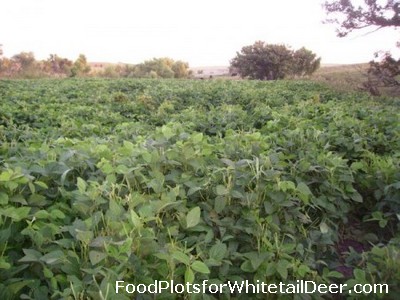 Some of the larger "feed store" 50-pound mixes that you see are a good value if you are only plan on planting one or two food plots. They are cheaper than the little commercial 5 and 10 pound bags, but also contain most of the things that work well in East Texas anyway. However, if you are planting several plots,very large plots, or need to cover a lot of hunting area, it may save a little money to buy bulk bags of seed and make your own mixes.
There are many good choices when it comes to spring food plots for deer. Iron and clay cow peas or soybeans seeded at a rate of 50 pounds per acre mixed when mixed with a different cover crop tend to make nice food plots in East Texas. Both species are fairly drought resistant but can succumb to overgrazing pressure from deer while just developing or on small plots with a high number of animals.
Good companion cover crops that grow well in East Texas include things such as alyce clover, browntop millet, and American jointvetch. The seed mix combinations for deer are virtually endless and everyone has different opinions, but to find out more information contact your local biologist. Also, look find out more about the soils on your property so that you can properly prepare your seedbed.
Use these tips to help you establish successful spring and summer food plots on your property this year. Whitetail deer and other wildlife species benefit greatly from supplemental foods packed with nutrients, especially during the summer months in Texas. High quality spring food plots will likely be additive to your wildlife management program, maintaining healthier deer and possibly producing even bigger bucks.